More Than 1,000 Jewelry Businesses Shut in 2017
by Klim Brik —
last modified

Jan 22, 2018 11:50 PM
http://www.diamonds.net/news/NewsItem.aspx?tc_dailyemail=1&ArticleID=59819 Jan 21, 2018 4:25 AM By Rapaport News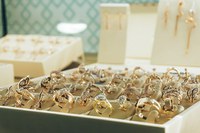 The US jewelry industry continued to downsize in 2017, with 26,031 businesses operating at the end of the year, down 4% from the previous year, the Jewelers Board of Trade (JBT) reported.

Some 1,022 jewelry companies closed during the year, while 156 opened, data the JBT released last week showed. Out of the closures, 852 were for reasons other than financial difficulties or consolidation. These included 678 retail jewelers, 106 wholesalers and 68 manufacturers.

A total of 120 retailers, 12 wholesalers and 11 manufacturers consolidated through mergers or acquisitions in 2017, while 27 companies shut down due to bankruptcy.

New entries in 2017 included 131 jewelry retailers, 13 wholesalers and 12 manufacturers.

Canada saw 44 companies close their doors for various reasons, while 10 new businesses emerged.