Alrosa Profit Slumps Despite Inventory Sell-Off
by Klim Brik —
last modified

May 31, 2017 10:21 AM
RAPAPORT... Alrosa's rough-diamond revenue declined in the first quarter as sales shifted to lower-quality goods, the Russian miner said. May 28, 2017 5:09 AM By Rapaport News http://www.diamonds.net/news/NewsItem.aspx?tc_dailyemail=1&ArticleID=58926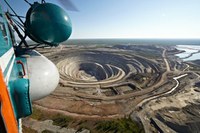 Group revenue fell 17% year on year to $1.5 billion (RUB 84.81 billion) for the three months that ended March 31, the company reported Thursday. Sales of gem-quality rough diamonds fell 18% to $1.35 billion (RUB 76.1 billion), with the remainder of revenue coming from industrial diamonds, gas sales and other products. Profit slid 55% to $401.4 million (RUB 22.69 billion).

Sales to Belgium, Alrosa's largest market, dived 15% to $764.2 million (RUB 43.19 billion), while revenue from India dropped 23% to $228.1 million (RUB 12.89 billion).

Alrosa sold a greater proportion of lower-value rough during the period, after exceptionally high sales in the first quarter of 2016. This was due to a selloff of higher-priced diamonds a year ago following the downturn at the end of 2015, the company explained in a separate statement earlier this month.

While Alrosa did offload a lot of goods this year — sales volume for the first quarter increased 17% to 14.1 million carats — these diamonds were generally the smaller and cheaper ones for which demand stalled at the end of 2016 due to India's demonetization program.

The strengthening of the Russian ruble against the US dollar also dented Alrosa's revenue, as the miner pays expenses in its home currency but sells in the greenback. The ruble appreciated about 8% against the dollar during the quarter.